The Suggested Handheld Manometers Ideal For Pressure Measurement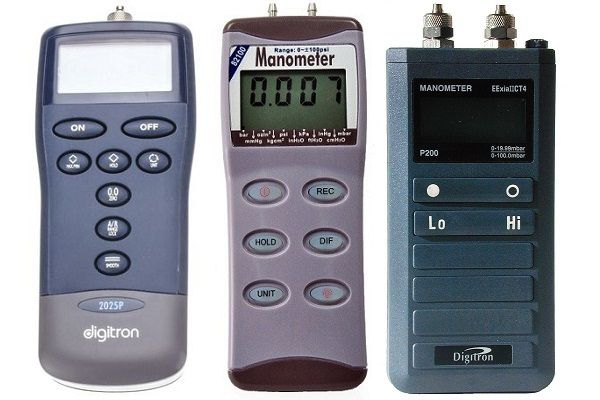 A digital handheld manometer is used for measuring and comparing weights of fluids/gases between two pressures. There are a lot of equipment that rely on liquid or gas to operate and some amount of pressure to function smoothly and properly. Digital handheld manometer come in many different shapes and sizes, with different reading capabilities and settings. In some applications, a handheld manometer is used to troubleshoot an air conditioning or heating ventilation system, as well as many low-pressure pneumatic or/and gas systems.
Each handheld manometer works within a specific range of pressure, temperature and material.
Digital Handheld Manomter – The Suggested Models
Digitron 2025P
The Digitron 2025P digital absolute pressure meter provides measurements from 0 to 200 kPa with your preferred units. Waterproof and equipped with a digital microprocessor, the Digitron 2025P can make any job easier and provide big money and time savings. It features a plenty of innovative and unique functions, allowing you to conveniently take and record any reading in your desired measurement unit. The 2025P is user-friendly, reliable and durable, so it is our first great suggestion on a handheld manometer.
Digital Handheld Manometer 0-15 PSI (USB and Software)
This handheld manometer is exceptional for relative and differential pressures that are up to plus or minus 15 PSI. This makes it suitable for measurements of air and/or gas pressures in HVAC, medical control equipment and pneumatic controls. With 11 user-selectable units of pressure, it is a suggested choice for any user. Also, it comes with a big, backlit LCD screen to show all the readings clearly. Lastly, it can be connected to a personal computer and collect, transmit and download data for further analysis.
Digitron P200ULIS Low Pressure Meter (0-100 mbar)
So far, the P200IS range of manometers is the best pressure measurement technology for use in dangerous environments. The Digitron P200ULIS is the perfect example, a low pressure meter able to get measurements from 0 to 100 mbar. It is certified by BASEEFA and its units are classified as EEx ia IIC T4, which can be used on any site, right away. The Digitron P200ULIS is an exceptional handheld manometer that can be used with non-ionic, non-corrosive liquids and gases. Coming with a robust case with durable characteristics and a well-protected digital display, this choice is for users who seek high-accuracy, battery with long life and ease of use.