The Most Popular Meter and Accessory Head from Fieldpiece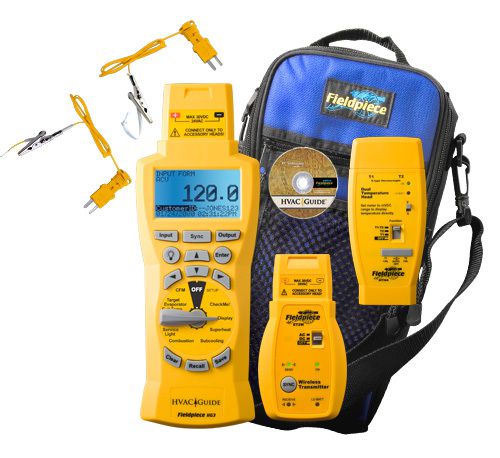 Fieldpiece Instruments is a world-renowned company specialized in designing hand-held test instruments solely for HVACR professionals. Fieldpiece invented modular expandability, a concept where one meter uses multiple accessory heads in order to help HVACR technicians to test a lot of parameters. Nowadays, Fieldpiece is the leader in producing a large selection of instruments for HVACR professional ranging from scales and manifolds, to detectors, system analyzers and so on.
Fieldpiece focuses in supplying tools suited for technicians specialized in Refrigeration, Air-Conditioning, Electrical and Plumbing Service Industries. The great thing about Fieldpiece's handheld digital test and service tools, is that offers accurate results in almost no time.
The accessory head system offered by Fieldpiece Australia offers an affordable range in order to get the results you need.
HVAC Wireless Analyzer HG3
One of the best and most popular Fieldpiece meter and accessory head on the market today is the HVAC Wireless Analyzer.
The Wireless HVAC System Analyzer it will provide you a range of different tests to diagnose HVACR systems and will significantly lower your customer's energy bills.
To make your job easier, better and faster, this incredible HVAC analyzer will walk you step-by-step through each test procedure. When connected with the ET2W Wireless Transmitter, which is included with every HVAC Wireless Analyzer HG3, the HG3 will make every Fieldpiece accessory head into a wireless device that will give measurements from up to 30 meters away. This will enable you to take around 13 measurements in one moment (12 wireless and 1 directly on the HG3) in order to give you a picture of the entire system's work.
How Does It Work?
The first thing you need to do is to select a test on the dial that you want to perform.

The second thing to do is to enter data on the input form (choose wireless or direct). The input form will be displayed once you select the chosen test. Make sure you fill out each line using Fieldpiece products.

Once done, you can see the results on the output form. This means that the output form will display the results of the calculations and references this for each performed test. You will be also shown with a recommended actions in order to fix some possible problems or to confirm that the system is running properly.

The last thing to do is to save, download and print the test. The saved test on the HVAC Guide can be connected to a computer in order to download the tests and print.
Wireless Test
Attach a Fieldpiece accessory head to the ET2W in order to log or view measurements on the HG3 in real-time. The HG3 can read up to 12 wireless tests at the same time, while a 13th accessory head can be connected directly to the HG3 so you can record 13 measurements instantly.
The HG3 can remember up to 200 tests on its internal memory, so you can easily show your customers how the system runs and what are the possible recommended fixes.